This is my review of Turkish Airlines 011 25 Jan 2015 from Istanbul to JFk aboard of a 330-200 departing at 530pm
I flew business class at Turkish Airlines  because many of my customers have raved about it.
The lounge at Istanbul for Turkish Airlines is incredibly large with two floors and plenty of food. The entrance was very efficient, you just scan the bar code of your ticket and it lets you in.
When I got into the lounge it was completely full. The various stations were an Omelet station, bread station, charcoal grill station, pasta station, flat bread station, plenty of drink stations with many liquors, wine stations but there was no champagne at all.
I asked to use the suite at the lounge to take a nap because I woke up at 2AM and landed from Abu Dhabi at 6:30am, however the lounge is for use of passengers between a 4 – 7 hour layover, so they denied me. They adamantly refused even when I asked if I could rest there for four hours.
Boarding at 4 PM was chaotic. No assistance was given to business class passengers to board, meaning that I had to elbow my way to the front of the masses of people swarming the gate. The young lady sitting next to me on the flight confirmed that this was always the case.
While boarding, the flight attendants seemed busy with last minute preparations of the cabin. Later on they walked around with lemonade, water, raspberry juice, and orange juice.  I asked if champagne was not served because we were on the ground (many Islamic airlines do not offer alcoholic drinks on the ground but only when they take off). The attendant kindly explained that this is not the case with Turkish and offered to bring me  champagne in a regular water glass not a champagne glass.
The configuration is  2x2x2 and the cabin seems spacious and clean. I was seated in seat 2J, an aisle seat.  The trolley with all kinds of different newspapers passed thought the cabin and a jaguar amenity kit was nicely presented. It consists of a larger AA bag which can later be used as your iPad security holder / cover. The blanket was properly sealed in a plastic bag. I was offered a duvet but declined it for later after the dinner. The view of the sunset as we were leaving Istanbul was absolutely magnificent.
The custom forms were distributed at this time and since I have global entry I do not have to fill one out. For all those business class executives flying at least three times a year I strongly recommend enrolling into global entry. It speeds your airport time tremendously; especially if you do not check any bags.
Locrum was then offered as a sweet start of the flight. The hot towel service is nicely presented on a nice ceramic dish. Drinks orders were taken and I opted for champagne. The chef was seen in the cabin taking food orders and I opted for grilled king prawn, fillet of swordfish and wild sea bass. Other choices were traditional yogurt kebabs or spinach ravioli.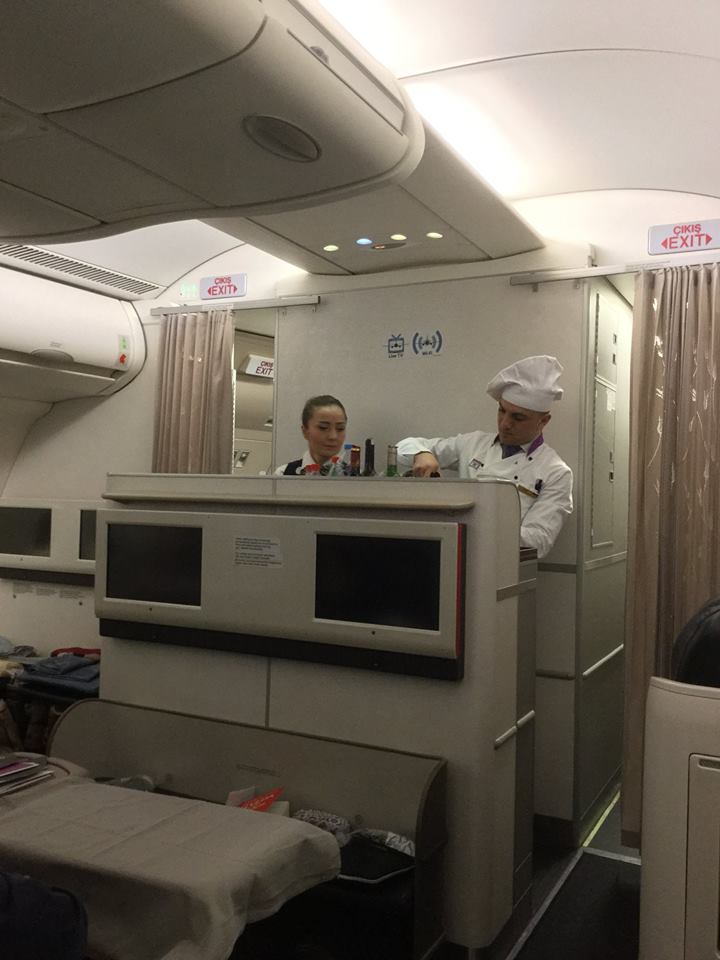 Taittinger Brut reserve Champagne was served with assortment of nuts. The nuts were not warm. Almost everyone had opted for exquisitely presented coffee. The cups were laced with marvelous Arabic motifs. Before the meal as a appetizer small plate of potpourri of canapés was presented. Less attention was paid where to place the dish on the table. I was happy nothing so far was brought to us on a tray. I hate trays and the food on trays. The food was served from trolley and presented very tastefully. But the most important is tasted fresh and delicious.  I opted for some marinated seafood salad, salmon tartare and some delicious beets.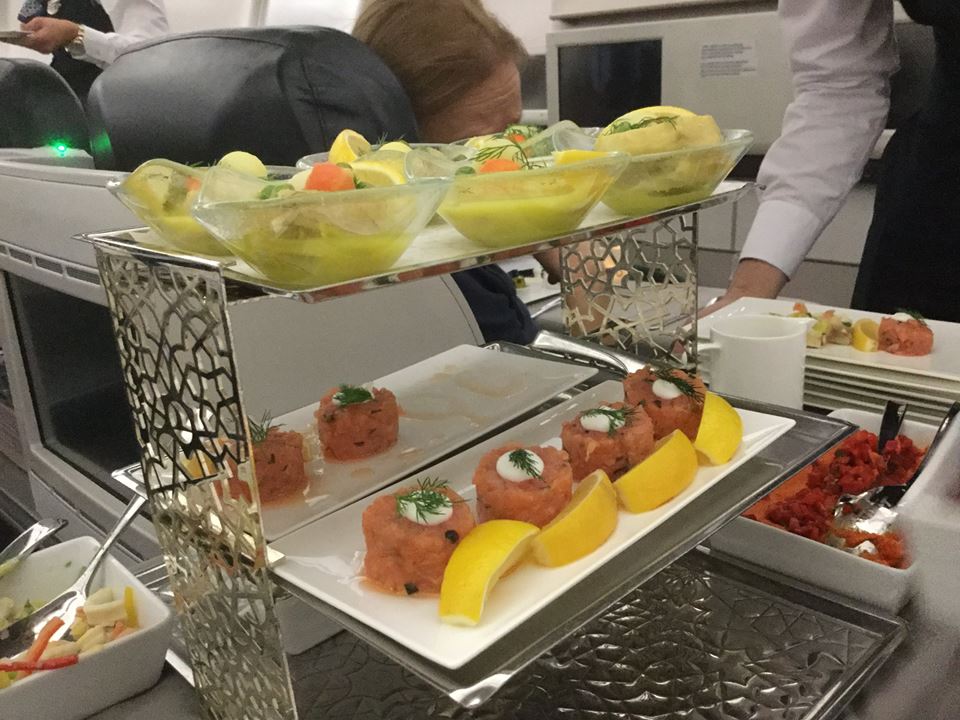 Immediately after came the exquisite roasted pumpkin and chickpea soup. Marvelously presented as you can see from the picture. As you all know, we eat with our eyes first. With a bit of pepper added to break the sweetness of the pumpkin this soup was a true marvel, served piping hot which I like. The seafood dish consisting of grilled King prawn, swordfish and wild seabass with cauliflower mousseline, sautéed spinach and roasted pepper was very tasty, moist and quite delicious. This was great since most of the time fish on the flights gets to be somewhat dry.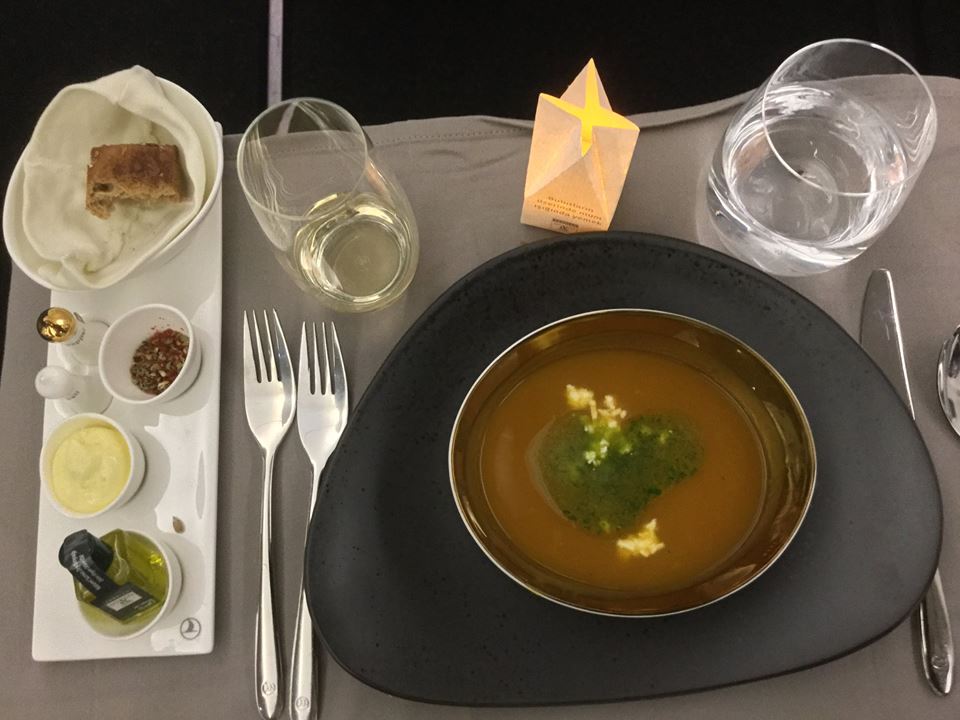 Meanwhile my glass was filled with more bubbly. I love the fact that they poured it immediately after they noticed that the glass is empty. I hate to ask for refills. Turkish airlines  is very generous here.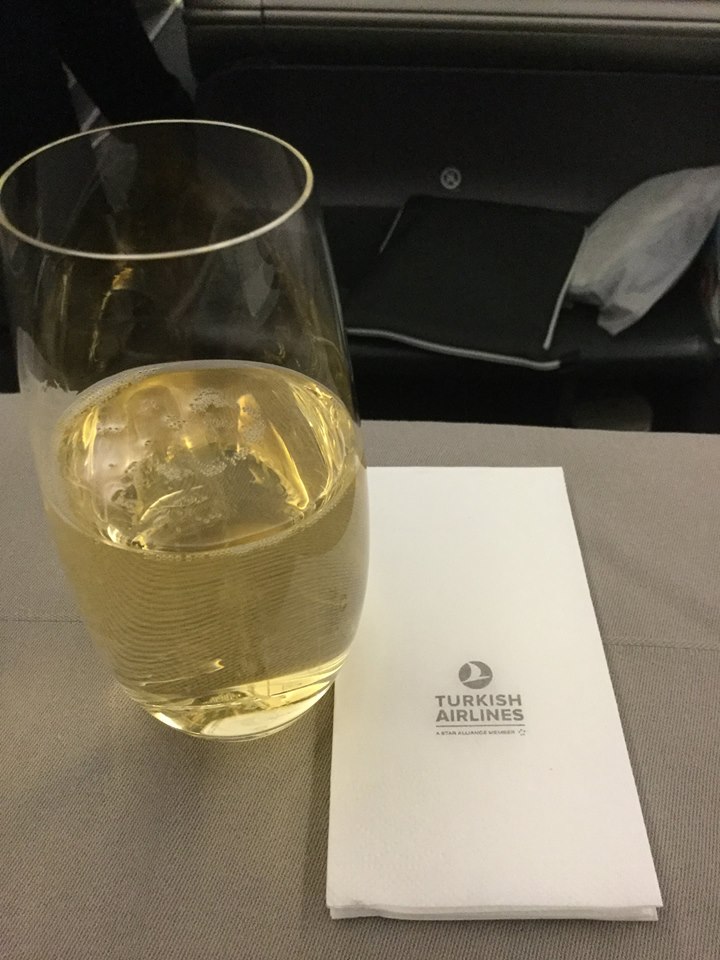 I was quite full now and definitely did not want any sweets but was very tempted by the cheese and fruits platter. I am a huge lover of quality cheeses and every time I travel I have to get some and bring it home for my family enjoyment. I don't think that I ever left Amsterdam without a wheel of amazing organic Gouda cheese.
All in all, Turkish's gate service was chaotic, but the flight was enjoyable and the food was exquisite.