Top 7 Places To Visit In Croatia
1. Dubrovnik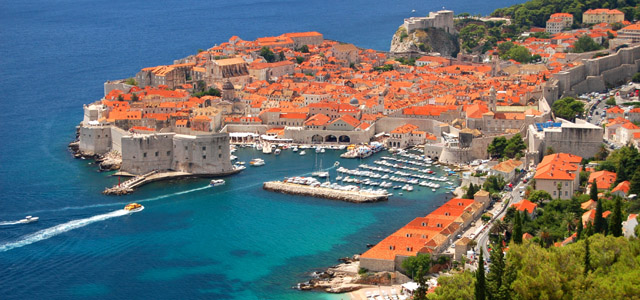 The backdrop to hit TV series "Game of Thrones" and frequent vacation destination of celebrities such as Beyonce and multi-millionaire Bill Gates. The scenic and ancient walled city speaks for itself. Make the most of your trip by taking the $15 Dubrovnik cable car to experience the best views from the top of Srd Hill where you can even enjoy a meal. On a clear day, you can see up to 37 miles away!
2. Korcula
The island that has been nicknamed "Little Dubrovnik", is full of red-tiled roofs and several cobbled streets and alleys. According to legend, it was founded by a Trojan hero but was colonized by the Greeks until wars with the Romans. Enjoy traditional sword fighting and several acapella singing groups. Famed to be Marco Polo's birthplace, it is considered one of the greenest islands in all of the Adriatic Sea. Enjoy the architecture, amazing beaches, scenery and orgasmic natural food. It's slightly off the beaten path so prepare for an astonishing escape free of neon lights and burger joints.
3.Zagreb
The capital and urban center of the country, Zagreb has many cultural attractions to offer. The city is rather geographically reverse, with districts low along the River Sava valley and others up in the foothills of mountains. With several museums, churches, statues, theaters and always a international concert going on, there is always something to do. Don't miss the city's infamous "Spica", a Saturday morning/afternoon ritual between 10am and 2pm where everyone floods the cafes of a select few streets downtown for leisurely coffee and to perfect the art of doing nothing. Everyone and their mother participates in this social phenomenon.
4. Plitvice Lakes National Park
The unbelievable cascading lakes of Southeast Europe's oldest national park will blow you away. The distinctive colors attract travelers from all over the world. Nature at its finest, calcium carbonate found in the limestone of the rocks illuminates the blue-green aqua color. Minerals flow through the lakes and interact with the flora and fauna to various unique awe-inspiring colors. Waterfalls naturally emerge as more and more limestone barriers are formed.
5. Opatija
Opatija has been known as the hub of Croatian tourism ever since the mid 1800s with the development of its luxury villas, seaside resorts and admiration from Austrian nobility. Pretend to be an Austrian emperor for a day as you walk past the luxurious hotels and elegant facades. The preserved 19th century feel can not be missed!
6. Rovinj
Expect great food (particularly seafood) and beautiful pastel-colored houses in this Venetian-era coastal town built around a fishing harbor and guarded by a hilltop church. Just a 2-hour ferry ride away from Venice, this car-free town will have you jumping from joy or cycling through one of many pine-forest paths. Check out Balbi's Arch, dating back to the 17th century which leads to famous Grisia Street, littered with artists. On either side is a carved head, which do you prefer a Turk or a Venetian?
7. Zadar
If Alfred Hitchcock raved about the sunsets in Zadar in 1964, it must be true! Here you will find "the most beautiful sunset in the world". Let's say those colors aren't enough for you- go ahead and check out Zadar's entertaining "Sun Salutations" installation. The grand setup features LEDs that light up once the sun sets and are run by solar power. Feed all your senses by listening to Zadar's "Sea Organ" at the same time. Tubes carefully installed under large marble steps interact with the sea waves to create a calming sea-side melody. Walk past all of this and step into Zadar's massive café culture- cafes taking up long narrow side streets, built alongside tall ancient walls and even visit "Garden" a bar where drinks are served lying down on spacious beds.